---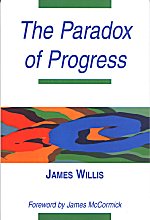 'James Willis has written a book that is both delightful and important. It is, in many respects, a serious book, but the touch is so light and so often illuminated by wit, that reading it is a joy and the journey is fun.' FROM PROFESSOR JAMES McCORMICK'S FOREWORD
'Sensitive, humorous and eminently readable, it offers the accumulated wisdom and vision of a deeply concerned doctor' BRITISH JOURNAL OF GENERAL PRACTICE
'The book can make you laugh and cry, but brings you back to the real reasons why people stay working in healthcare' HEALTH SERVICE JOURNAL
'Beautifully written' JOURNAL OF THE ASSOCIATION FOR QUALITY IN HEALTHCARE
152 Pages....Paper........ISBN 1 85775 063 2
After three reprintings over 15 years the rights of both of my books are now mine. I have copies, price much reduced, and will print more as needed. Contact JARWillis(AT)Gmail(DOT)com

TOP
---
Friends in Low Places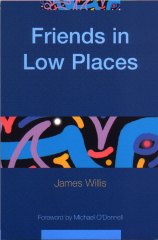 James Willis' book says something so essential and vital that it needs to be shouted from skyscrapers...
Gillie Bolton's review - The Journal of Medical Humanities, June 2002
...It also, however, is about something as simple as the emperor wearing no clothes. This is that a denial that life-as-it-is-lived is wonderfully, hopeless-ly, chaotic and complex - is not just doomed to failure, but will inevitably cause untold damage. Our society is not only attempting to deny, but to constrain life to become structured, controllable, controlled. There seems to be an insane belief that life can be controlled by ticking boxes, by diligently reading instructions, before doing anything, thinking anything, being anything.

Gillie Bolton's review continued
214 Pages....Paper....ISBN 1 85775 404 2

TOP
---

Why machines need people RSM Video
John Fry is the pre-eminent exemplar of the generation of free-thinking doctors who, acting entirely on their own initiative, turned general practice in Britain, and subsequently throughout much of the world, into a modern scientific discipline. Now that the process of modernisation has run on for fifty years, making general practice in Britain more machine-like than Fry could possibly have imagined, it seems that the human qualities he exemplified are no longer necessary and are in fact dangerous. Developing ideas which James Willis originally derived from observations in his own general practice, he will show that this is a tragic, potentially disastrous, but not yet irremediable, mistake. " The 2010 John Fry Lecture at the Royal Society of Medicine 14 July 2010

NECTM 2006
"My passionate polemic, given on what happened to be the day my youngest grandchild's was born, urging an end to organised global warming denial.". " Opening keynote for the North European Conference on Travel Medicine, Edinburgh International Conference Centre, 6 June, 2006

The Human Side of Medicine
"So what I want to talk about – is a kind of moving out from personal, seat-of-the-pants practice based on independent professionalism, to a kind of fly-by-wire practice in which, as in so many other aspects of modern life, our dealings are with the front-end, the interface, of some intermediary system rather than with the thing itself. " Talk to the South West Trainers Group, Newquay, 26 November 2004

The Sea Monster and the Whirlpool
"Not only must doctors remain scientists in order to serve their patients, steering between the Scylla and the Charybdis of my metaphor. I also believe they have a unique contribution to make to science itself. General practice, through its academic wing, through its Royal College, but especially through its individual practitioners, doing the best and perhaps one of the most important jobs in the world, can make a contribution to the next step forward in our understanding. Provided they have confidence in the validity of their view of life, and provided society gives them the freedom and the respect they need to do their job." Keynote Address on 'Science' to Royal College of General Practitioners' 50th Anniversary Symposium - Birmingham International Conference Centre


Listen to the Juggler
"Balance. Tradition. I am proud of our traditions in this country. And proud of our famous balance – our gift for compromise. I do not wish to see all this thrown away in the name of change. We must look back, and as we move forward into the excitement of the new, we must keep our balance with the best of the old." The 2001 George Swift Lecture 16 Oct 2001


The Heart of the Matter
"The next stage of 'progress' may well involve our lightening-up and accepting that life is not perfectible, that risk cannot be eliminated and that the role of society is to celebrate diversity and to set the limits of acceptable behaviour as widely as possible, never to direct the details of behaviour." Address given at the Royal College of Physicians on 29 Nov 2000.


Maintenance'
An appreciation of Pirsig's famous book Zen and the Art of Motorcycle Maintenance which was a major influence. Published in the December 2000 issue of Medical Humanities, in the series Medicine through the Novel..

Rules can never describe life, they can only set limits
Questioning proposals for revalidation of the medical profession.
Article in the British Journal of General Practice (Reference no 89 in Friends in Low Places )

TOP
---

Medical Humanities: a vision and some cautionary notes. By Stephen Pattisson
An excellent analysis of the possible "death course of a discipline", reproduced (with permission) from the Medical Humanities Edition of the Journal of Medical Ethics, June 2003

After Bristol: the humbling of the medical profession
An excellent analysis by Dr Michael Fitzpatrick

Professor David Morrell's Presidential Address to the British Medical Association July 1994
ignored at the time, and never published, but how right he was!
---

Memoir by a 'real person' if ever there was one, one of my patients:

General nurse training in the early '30s by Margaret Staples, SRN

TOP
---
My blog Generally Speaking is at www.JARWillis.com
Email: JARWillis[AT]Gmail.com
Page modified 15 December 2015